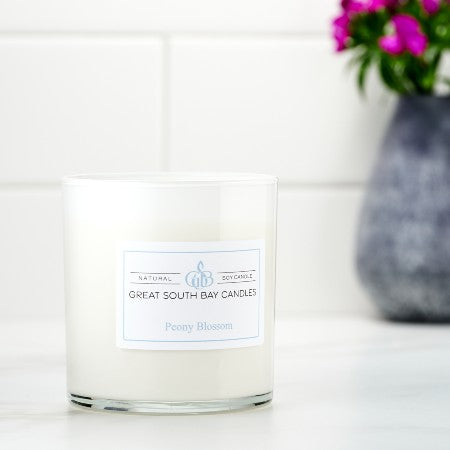 Valentine's Day Candle Gifts

Valentine's Day 2022 is Almost Here! Still racking your brain on what to get for her or him?
Valentine's Day is coming up and we can help you ease your worries if you are still looking for a great local gift to give. February 14th of every year, we have this day full of expressing our love to those around us, the person we are dating or spending the rest of our lives with.
Have you found an ideal Valentine's Day gift for your special someone?  Did you locate a gift that will make them smile from ear-to-ear? Or are you still looking for wonderful Valentine's gifts for her or him?  Great South Bay Candles can be the perfect Valentine's gift giving solution for your needs.
Quick History of Valentines
The day is a celebration of two martyrs via the Catholic Church. The day is to remember how these men defined the religious rulers of their day via allowing people to express their love to others. One man helped marry men to their loved one in defiance of the ruler at the time. The other man, while confined in prison, wrote his love out in letters to the woman who captured his heart.
The gift giving aspect of this day came later. Poems and cards became the ideal gifts in the 1300s.  These two gifts continued over the next few hundred years; mass-produced cards became more popular in the late 1800s. The tradition of giving flowers dates back to the 1700's with King Charles King II of Sweden with red roses symbolizing love. Hallmark took over this holiday in the mid-1940s to what we know it to be today. The expectations for Valentine's Day went from cards and poems to more elaborate gifts as the 1900s continued on.
Interesting Facts about Valentine's Day
Valentine's Day is not a public holiday in all countries and is celebrated differently in other parts of the world. Americans spend over $25 Billion a year on gifts with approximately 2 billion in just candy alone. Over 140 billion cards are purchased which makes this the second biggest Holiday for card exchanging, as Christmas being the first.  More than 8 billion conversation hearts are produced each year just for Valentine's Day.  The heart shaped chocolate box was created by Richard Cadbury for Valentine's day back in 1861. This day is the most popular for couples to get engaged more than any other Holiday.
Candles for Valentine's Day                          
Valentine day candles have become a gift staple paired with a Hallmark card that many purchase for their loved ones. Candles have made a great combo once paired with a card and a box of chocolates. Since candles come in a wide variety of scents, finding your loved one's favorite scent can be a breeze. Picking out a card that shows how much you care, a hand-made candle in their favorite scent, and maybe something to make them smile from ear-to-ear.
Here at GSB Candles, there are some wonderful scents to select from for your Valentine's Day gift ideas.
Choosing the Right Candle Scent 
For those who adore a more fruity scent to surround them, order the Grapefruit candles to awaken your senses.  The Mangosteen is an exotic tropical fruit with a slightly sweet and sour flavor.  It's originally from Southeast Asia, but can be found in various tropical regions around the world.  When I smelled this for the first time, I felt I needed to pair the scent with another powerful fruit aroma;  grapefruit and mangosteen combined with additional citrus notes was an instant success for me.  This combo as it burns fills up a room with such a divine scent.
Another GSBC scent that can make your Valentine's Day gift a breeze would be the floral fragrance that the peony blossom produces. The scent of the light vanilla undertone is paired with heavenly notes from the peony flower.  The candle is ideal for someone who loves a light floral scent to fill their home with.
GSBC also offers a Vanilla Bean candle that is ideal for a person who enjoys the light scent of a fresh baked goody coming out of the oven.  This fragrance doesn't have an overly bakery sweet aroma but just the right amount of sweetness.  This scent is popular year round. 
If lavender candles brings a warmth to their heart, our Lovely Lavender scent we have created will score you brownie points galore! The scent is unexpected at the start, but once that wax starts to melt a bit more, the scent starts to really come to life. The scent is like walking through a field of this glorious flower.
A final scent to consider for a your Valentine's Day needs would be highly desired Amber Noir. The notes from this fragrance have a sensual, earthy tone to it, with a flair of bold highlights as it burns. This scent is very popular year round, as well.  Amber candles are ideal for someone who enjoys earthy tones, including hints of sandalwood and patchouli.
The Value of Buying From GSB Candles
Our scented soy candles are handcrafted and made with safe and environmentally friendly ingredients.  All of our candle products are made with 100% soy wax, cotton wicks and quality fragrance oils blended with essential oils.  Our wax is not a soy blend, so it's paraffin free with no additional additives.  Besides our fragrance oils being phthalate free, they are skin safe and free from toxins and carcinogens.  Besides being eco-friendly, soy wax is vegan because it's plant based and cruelty-free.  We also use packaging that is recyclable and or biodegradable to help preserve our planet.
You will have peace of mind knowing you are purchasing a candle that burns safely for you, your family and home.
CANDLE CARE 101
There is a way to maintain and extend the life of your candles.  The diameter of your candle will determine how long the first burn should be.  Rule of thumb is to burn one inch per hour.  We recommend burning our candles for 4 hours on the first burn cycle.  Don't burn your candles for more than 4 hours as the wax and fragrance oil will begin to evaporate, burn off quicker and the wicks can mushroom.
Trimming your wick helps by eliminating wick mushrooming that leads to excessive soot. You should always trim your candle wicks no more than ¼" before each burn cycle. We carry a great tool called a wick trimmer.  Wick trimmers cut your wick precisely, evenly and make a great pairing gift with our candles. 
Let's be honest, we all love to burn candles for a long period of time.  That is why we recommend keeping multiple candles on hand so you can rotate them when you want to continue burning candles longer than 4 hours.  This way you can either rotate fragrances or always an extra of your #1 favorite on hand.