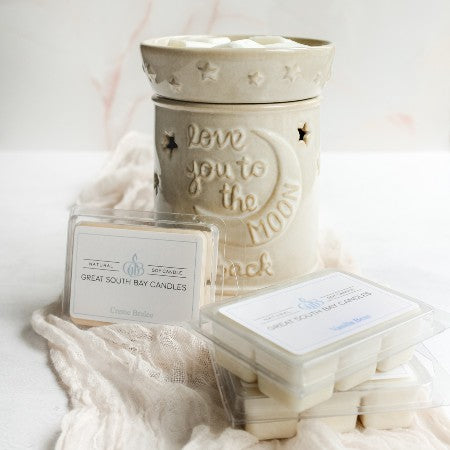 Wax melts can fill a room with your favorite fragrance just as effectively as a candle. The difference is how they are used. Soy melts are actually not burned, but when melted they emit the fragrance into the air  Wax melts are wickless fragrant candles that come in a cube or chunk form and used with a candle warmer.  
Many wax warmers are electric but some are available where you use an unscented tealight underneath to warm the wax. They vary in size, from large enough to sit on your end table or small enough to be plugged into an outlet above your countertop. Warmers have a dish on top of the heat source; this is where you place your melts. 
Start by putting one or two cubes into your warming dish.  There is no need to add water or anything else besides the wax melts into your warming dish. You can always adjust the amount depending on the size of your dish, making sure the wax doesn't overflow once it melts. 
Just sit back, relax, and enjoy the fragrance filling the room. Once the fragrance has dissipated, cool down and simply remove the wax from the dish, wipe clean and refill with new melts.